Driveway curb ramps are an essential investment for any homeowner that wants to ensure smooth and safe car transitions from the street. In this article we're going to discuss the top 3driveway curb ramp solutions and identify the major pros and cons for each (including the shocking quality issues you might need to look out for). 
Driveway Curb Ramp 101
Before we dive in, let's start with some basics…
If you have a rolled curb for a steep driveway, extensive damage can occur to your car's undercarriage, suspension, wheel alignment, bumper, and other components, leading to significant expenses in the long run. However, investing in the right curb ramp can proactively minimize any potential damage to your car. 
From large trucks and SUVs to smaller vehicles like scooters, mobile wheelchairs, motorcycles, and sedans, curb ramps are designed to make your life easier and more convenient. 
Not only can the right curb ramp make the transition from the street to your driveway smoother, but it can also protect your car and passengers from damage that can be both costly, frustrating, and even injurious. This can be a big relief to parents, as kids in the backseat no longer have to bear the brunt of the resulting jolt everytime the car crosses the curb. 
However, choosing the right curb ramp for your needs can be difficult with so many options to consider. To help, we've narrowed down our top three picks for driveway curb ramps: Bridjit, Pyle, and Vevor. Let's dive in. 
Bridjit Curb Ramps – 4.4 out of 5 Stars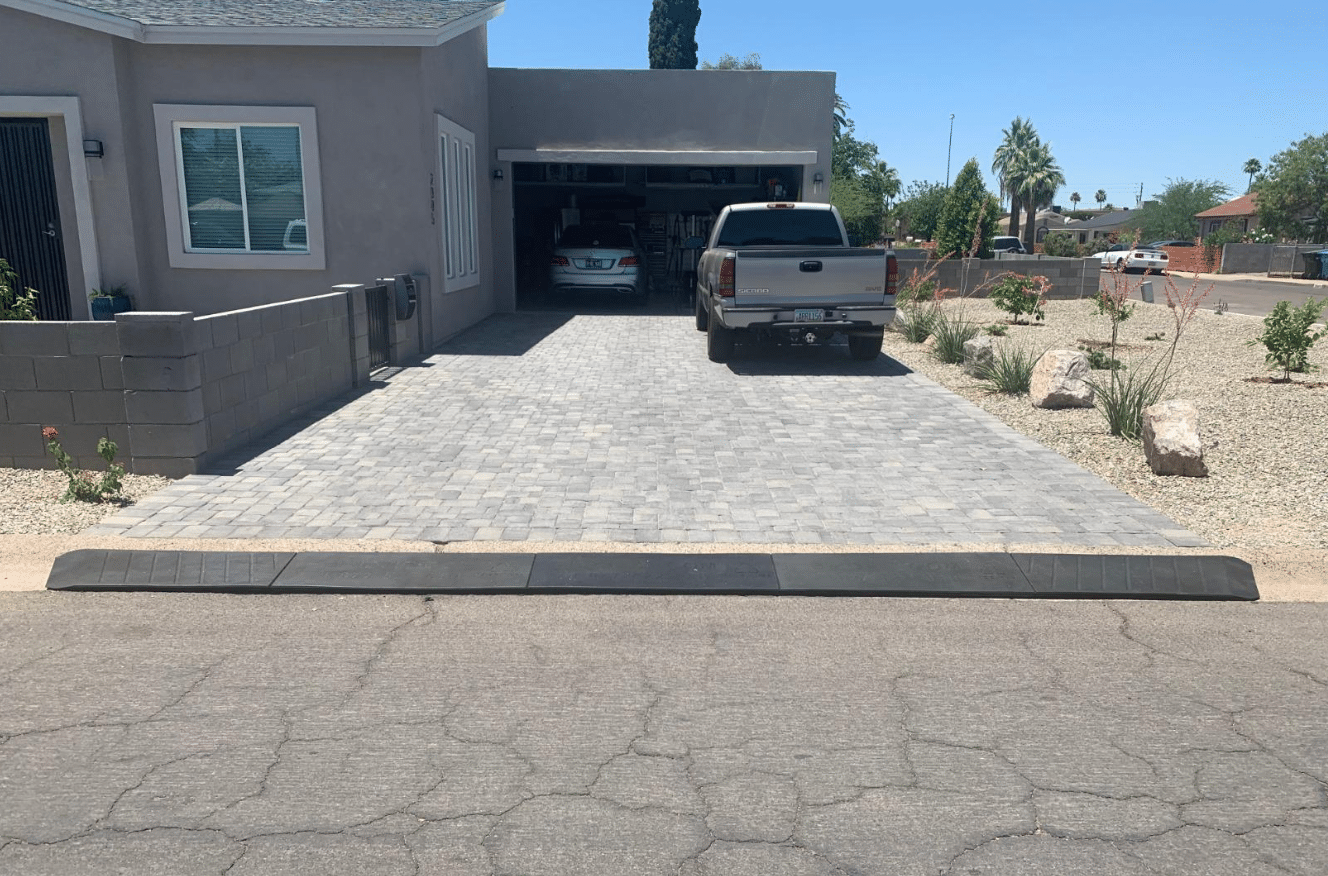 Bridjit Curb Ramps are a top-of-the-line product that any homeowner or business owner can use for their driveway transition needs. Though more expensive than your standard curb ramp, Bridjit boasts excellent quality material and is even created from recycled tires. 
Durability 
The durability of these ramps is unquestionable, as they are constructed from recycled materials that withstand the test of time. Not only do they exhibit strong resistance to wear and tear, but they can also handle significant weight without suffering any damage.
Innovative Design 
Transitions between standard driveways and curbs can damage your car, especially if you hit them frequently. But with Bridjit Curb Ramps, this issue is solved. The sloped ends of the ramp allow for seamless transitions, protecting your vehicle and providing a smooth ride.
Material 
The materials used to construct these ramps offer excellent quality, making them a great value for their cost. Plus, they are built to last for several decades with proper maintenance.
Water Flow
One of the most significant benefits of Bridjit Curb Ramps is excellent water flow. The ramps work well with steep driveways without disrupting water flow, making them ideal for areas that experience heavy rainfall.
Cost
While on the pricier side, investing in Bridjit Curb Ramps can save you significant maintenance costs, protect your vehicle, and provide an easy and smooth transition between your driveway and the curb. 
Installation
Installation is straightforward. The instructions are clear and concise, meaning anyone can install these ramps without inconvenience. They are also suitable for all types of driveway entries, including curved driveways and cul-de-sacs.
Boasting outstanding durability, excellent materials, and easy installation, homeowners can't go wrong with Bridjit Curb Ramps. Despite being more expensive than your average curb ramp, it is a worthwhile investment due to its high durability, quality control, and innovative design. 
The Vevor Curb Ramp – 4 out of 5 Stars 
The Vevor Curb Ramp is great for traversing elevated surfaces. This versatile ramp accommodates different vehicle types, from sedans to SUVs and motorcycles, providing a smooth and safe transition over curbs, steep driveways, loading docks, and garage sidewalks. While competitively priced, we give this curb ramp a 4 out of 5 stars due to its lack of suitability for low-impact curbs, according to customer feedback. 
Weather-Proof Design
The ramp's weather-proof feature ensures it can withstand all weather conditions, from rain and wind to snow. Its bottom shock absorption feature also provides an added layer of protection, ensuring that the car's suspension remains unharmed.
Kid-Friendly
Kid-friendliness is always a great factor to consider when it comes to any safety enhancing product. As such, the design of the curb ramp makes it easy for kids to safely cross curbs with bicycles, scooters, and more. Parents can breathe a sigh of relief as the risk of childhood injury is significantly reduced. 
Installation
The Vevor Curb Ramp also comes with a range of installation options. It can be installed permanently or temporarily using dedicated holes and bolts, ensuring a secure attachment to any surface. 
Cost
The ramp is affordable and provides a cost-effective rubber curb ramp and promotes long-lasting performance and secure installation methods.
Vevor curb ramps are touted as a high quality yet affordable curb ramp. And for the most part, these curb ramps live up to that standard. However, when digging through customer feedback, some users report quality control issues, a strong odor, and an inability for the ramp to remain in place. While there are plenty of other positive reviews with regards to Vevor curb ramps, consumers are always advised to weigh their options and purchase accordingly. 
Pyle Curb Ramps – 3.9 Stars out of 5
The Pyle Threshold Curb Ramps are an ideal option if you're in the market for a dependable and robust curb ramp for your home or business. Despite being more affordable compared to the other ramps mentioned here, customer feedback notes that it doesn't have the most favorable design or quality control. 
Durability
Pyle claims the ramps can withstand harsh weather conditions, heavy loads, constant traffic, etc. However, our research suggests otherwise. According to customer feedback, there are complaints regarding quality control as the product is prone to cracking or not staying in place. This is an especially important factor to consider if you're seeking a highly durable and steady curb ramp.
High Load Capacity
A high load capacity means a curb ramp can easily handle heavy loads for extended periods of time without showing any signs of wear and tear. The Pyle Curb Ramps come in standard widths and lengths and offer a load capacity of up to 10,000 lbs.
Slip-Resistant 
Pyle curb ramps contain a textured-style surface, which ensures that they remain slip-resistant, even in wet or slippery conditions. This design is meant to provide an added level of safety, in addition to its ability to lessen curb impact on your vehicle. 
Integrated Cut-Out Holes
The Pyle Curb Ramps have integrated cut-out holes for permanent mounting and built-in water or cable channels at the bottom. Additionally, the ramps can be fastened and interconnected with multiple pieces for greater flexibility in placement. 
No-Damage Solution
Pyle Curb Ramps are specifically designed to avoid damage to the vehicle's undercarriage, which is particularly beneficial for low-profile vehicles, and steep driveways with rolled curbs. 
Pyle curb ramps are a great choice if you're seeking a curb ramp that is low-cost, however, it should be noted that some quality control issues have been reported among customers. Regardless, they do offer the standard features of a heavy-duty curb ramp. As such, homeowners should do their research on what curb ramps are best for their particular situation. 
Conclusion
When it comes to selecting the right type of curb ramps, there are a wide variety of options to choose from. But it is essential to consider each ramp's features and characteristics before making a decision. 
Bridjit Curb Ramps, Vevor Curb Ramps, and Pyle Curb Ramps are popular options for providing a safe and seamless transition between your driveway and the curb. Each option offers unique benefits and features, as well as drawbacks. 
Bridjit Curb Ramps have the highest overall rating for their durability, quality, and stability. They are a great investment for those who don't mind spending the extra money to protect their vehicle. Vevor Curb Ramps, on the other hand, boast affordability and a kid-friendly design, but may not be the best pick in terms of quality or design. Finally, the Pyle curb ramp is the most affordable option, but there is negative feedback regarding its security, quality, and ability to hold up to wear and tear. 
All things considered, homeowners should choose a curb ramp that best aligns with their safety needs. In doing so, they will realize greater cost savings in terms of damage and potential injuries prevented.