Pyle Curb Ramp Review
Available on Amazon, the Pyle Threshold Curb Ramps are heavy-duty car curb-side bridges that are meant to overcome common driving obstacles such as uneven curbs, driveways, gutters, and garages. These curb ramps promote a durable and stable design that ensures the safety of both vehicles and pedestrians. The Pyle Threshold Curb Ramps claim that they are made of high-quality materials that guarantee their durability and longevity. Moreover, this product claims to withstand harsh weather, heavy loads, and constant traffic, which are very practical qualities for a curb ramp to have.
For those who need a curb ramp for their garage, driveway, or vehicle curbside, the Pyle Threshold Curb Ramps are an affordable option for safety-conscious homeowners. There are various factors one should consider when purchasing a curb ramp, however, and this includes customer feedback. Keep reading for our detailed review of Pyle curb ramps, where we will discuss its features, benefits, and customer reviews.
A Durable Curb Ramp with Permanent Mounting
The Pyle Threshold Curb Ramp is a viable option if you are searching for an affordable and reliable curb ramp. This ramp features a threshold bridge track, perfect for curbs, driveways, and gutters. Furthermore, this ramp can fasten and interconnect multiple ramp pieces together for added versatility.
This ramp can also be permanently mounted using a bolt, which mean to help prevent the ramp from shifting, shaking, or moving when it is in use. The ramp comes equipped with integrated cut-out holes for permanent mounting at the edges, and it even has built-in water or cable channels at the bottom. These features allow you to easily install the ramp in high-traffic areas without worrying about it getting damaged.
While the Pyle curb ramp claims to be extremely steady, some customer feedback tells us that the ramp can be a bit unstable, particularly when exposed to prolonged use. Moreover, their smaller size may also require you to purchase more than just one curb ramp. This in turn impacts affordability, as you may be better off purchasing a larger, more expensive ramp with a longer lifespan.
Flexible, Heavy Duty Design for Any Weather Condition
The Pyle Threshold Curb Ramp will work great for individuals searching for a flexible and sizable ramp. The ramp claims superior strength and flexibility and is made with max construction material and engineered synthetic rubber. Measuring 16.0 x 2.6 inches, this threshold car curbside bridge inherits a sturdy and durable design made for frequent use, despite being on the smaller side.
This ramp boasts universal vehicle application thanks to its adaptability, flexible design, and the fact that it can accommodate various car types. The ramp size easily covers raised thresholds, providing a safe and smooth transition for vehicles. The ramp also comes with an optional mounting bracket kit to keep the ramp securely in place.
The Pyle Threshold Curb Ramp is designed with built-in water or cable channels at the bottom to ensure proper drainage, which should provide all-weather traction for vehicles. The ramp has a textured style surface for increased friction, allowing for vehicle safety and stability even in wet conditions.
Universal Vehicle Application
Finding the right vehicle curbside ramp can make or break your ability to navigate uneven curbs and driveways. Curb ramps that are liable to move or shift can create more obstacles for vehicle drivers. For large-capacity vehicles in particular, this can result in damage or accidents.
One important feature to consider when choosing a curb ramp is its durability and ability to accommodate various car types. Claiming the ability to handle an impressive load capacity of 10,000 pounds, the Pyle Threshold Curb Ramps accommodates all vehicles, whether a car, truck, trailer, RV, or even a mobile wheelchair.
Durability is a must with curb ramps that handle heavy traffic, and the company claims these ramps are made of high-grade rubber for longevity. Because these ramps fall on the inexpensive side however, you should also consider customer reviews before purchasing. After all, the cheaper ramps may end up costing you more in the long run if they wear down quickly.
Reviews for Pyle Driveway Rubber Threshold Curb Ramps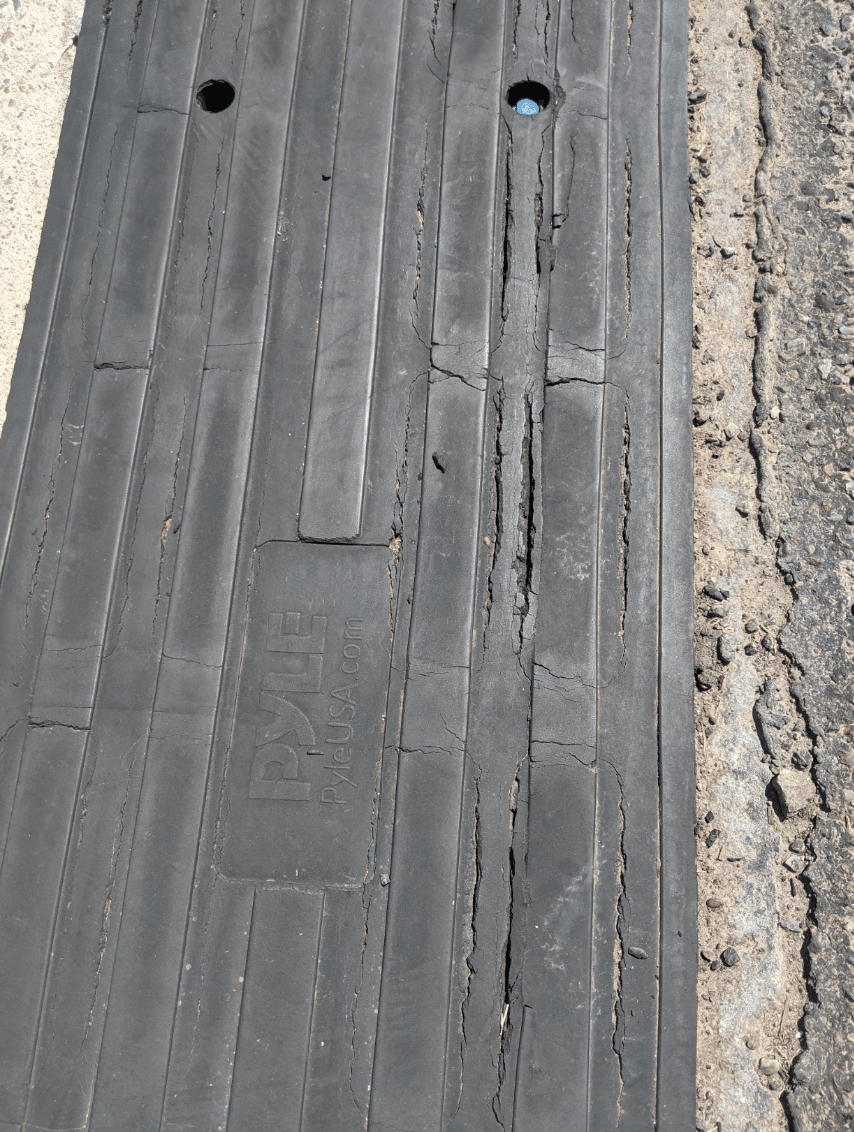 When looking for an effective solution to a steep driveway or uneven pathway, Pyle Threshold Curb Ramps have proven to be one of the most affordable options on the market. In terms of customer feedback, however, this may come at the expense of durability, design, and size.
According to some, these curb ramps may emit a strong odor, crack easily, and it can be difficult to get them to stay in place. Moreover, the design mostly accommodates standard curbs, and is not recommended for low-impact curbs. Equally, they are reported to be much smaller than a standard curb ramp. Quality control and design issues can pose significant drawbacks for those who need a stable, long-lasting curb ramp built for their driveway.
On the other hand, some customers report that Pyle curb ramps have a heavy-duty design, and are easy to install. They are made for specific curbs and can work well when properly set up. All things considered, however, homeowners should do their research when looking for a curb ramp that fits their driveway, curb, and vehicle needs.
Final Thoughts: Evaluate Your Options
The Pyle Threshold Curb Ramps make an affordable option if you're searching for a durable and flexible car curb-side bridge. The company claims that this ramp is made of high-grade rubber, designed to withstand heavy loads and weather conditions with ease. Equally, the ramp has integrated cut-out holes for permanent mounting at the edges, as well as built-in water or cable channels at the bottom for proper drainage.
However, it is important to read customer reviews before purchasing this product. Although some customers report that the ramp works great with standard curbs and is easy to install, others have shared their dissatisfaction with the size, quality control issues, and odor of the product. Ultimately, homeowners should conduct research to ensure that they choose the best ramp for their driveway, curb, and vehicle.
Are you still shopping around? Check out our article reviewing the current top 3 curb ramps available today.